12 Oct 2020
International Girl Child Day was celebrated with enthusiasm and zeal. The theme of this year is "My Voice, Our Equal Future".
Advisor to Lieutenant Governor, Farooq Khan reaffirmed that the day is not far when girl child will maintain her individuality with no external pressures and further excel in every sphere of her life.
Advisor Khan made these remarks while speaking at an event to celebrate 'International Day of the Girl Child' at Kashmir Haat Srinagar.
Deputy Commissioner Srinagar, Dr Shahid Iqbal Chaudhary, Additional Secretary Social Welfare Department, Khurshid Ahmad Sanai, Mission Director State Resource Center for Women (SRCW), Shabnam Kamili, Programme Officer, ICDS Project Srinagar, Zeenat Ara and other concerned were also present during the occasion. Advisor also distributed craft kits among adolescent girls, certificates of participation and certificates of appreciation among ICDS supervisors, Anganwadi workers and other participants.
Under the patronage of Justice Gita Mittal, Chief Justice High Court of J&K and Patron-in-Chief Jammu and Kashmir UT Legal Services Authority and directions of Justice Rajesh Bindal, Executive Chairman J&K SLSA, "International Day of the Girl Child" was observed today by J&K Legal Services Authority through District Legal Services Authorities in all districts of the UTs of J&K and Ladakh.
DLSA Udhampur celebrated the day by organizing online "Mushaira"with participation of renowned poetesses Rekha Thakur and Kusum Sharma along with girl students and housewives from remote areas of the district. The programme was attended by Judicial Officers of the district, NCC and NSS units of Government College for Women, Udhampur, Government Boys School, Nagrota and J&K Pride Institute.

DLSA Kathua celebrated the day by holding a drawing competition in ten schools of the district where the children made the drawings amid observance of all government SOPs regarding COVID.
DLSA Samba commemorated the day by organizing a series of activities including a Virtual Intergenerational Conversation highlighting the potential and capabilities of girl child as a prospective change-maker for the society.

DLSA Anantnag and DLSA Poonch organized awareness programmes in celebration of the day at various places in their respective districts.
In Poonch, School bags were handed over to School girls and baby care kits were distributed for newly born girl child in diff Panchayats under Beti Bachao Beti Padhao during B2V. Meritorious girls of class 12th were facilitated on International Girl Child day.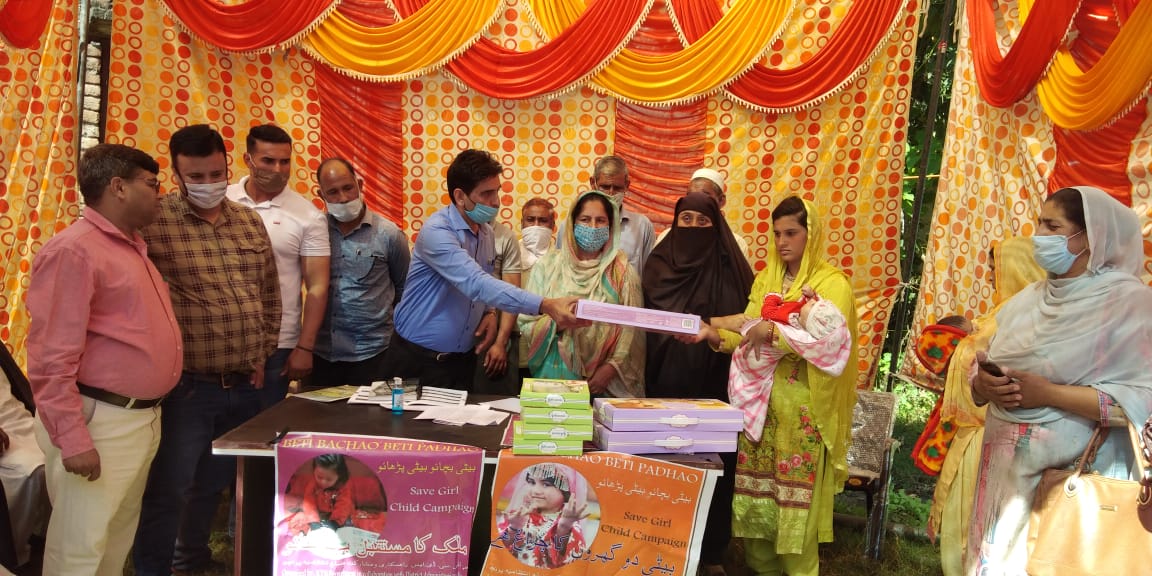 DLSA Budgam held an awareness programme at Gopal Pora, Chadoora with participation of orphan girl students of Gulshan-e-Bannate Institute of Education on the theme "My Voice-Our Equal Future". Manzoor Ahmed, Sub-Judge, Tabassum Parrey, Secretary DLSA and Z. A. Tak, Patron-in-chief of the institution, spoke on the occasion.
DLSA Bhaderwah observed the day by organizing awareness programmes through PLVs at various locations in the district with the objective to empower girl child and enable them to enjoy their rights so that they can face the challenges in life and meet their needs.
DLSA, Leh also observed the day by organizing an awareness programme at Skill Training Centre, Leh. Spalzes Angmo, Secretary DLSA and Nawang Norboo, Assistant Prosecuting Officer were the resource persons on the occasion.
The day was celebrated by DLSA Reasi at Mahore where an Awareness Camp was organized in which the PLVs and general public participated.
DLSA Ramban observed the day by organizing programmes at High School Sachan, Ukhral and Gool with the objective to spread message about the importance of the day.
DLSA Bandipora organized a webinar to celebrate the day which was attended by panel lawyers and PLVs. Iqbaal Ahmed Akhoon was the resource person on the occasion.

DLSA Kupwara also organized an online programme in observance and celebration of the day.
The day was similarly observed by DLSAs of other districts across UTs of J&K and Ladakh with great fervor and enthusiasm amid observance of all prescribed norms and SOP's regarding COVID-19.
NSS Units of GDC Kathua celebrated International Girl Child Day. Volunteers made poster on this day on different themes. The event was organised under the supervision of College Principal Prof Assa Ram Sharma and NSS Programme officers Prof Manmohan Singh, Prof Ritu Kumar Sharma and Prof Neha Bandral.
Women Empowerment Cell of Government Degree College Surankote organized inter collegiate essay writing competition on the theme "My Voice Our Equal Future" to celebrate the day. Students from various degree colleges participated in the event. Feyaz Ahmed, Yushra Khanam and Khadeeja Zahra secured first, second and third positions respectively. The e-certificates of appreciation were given to the participants. The programme was co-ordinated by Dr Mussarat Jabeen, Convener Women Empowerment Cell under the supervision of Principal of the host college Dr Jasbeer Singh.
Bharat Scouts and Guides, District Udhampur and Reasi jointly celebrated the International Day of the Girl Child under the guidance of District Secretary Sheikh Inayat Ulla at Dev Kids School campus. On the occasion, the chief guests were SHO Sunil Sharma and District Chief Commissioner Rakesh Sharma. Scout Master Rakesh Sharma threw light on the importance of the day. A debate competition was organized by scouts and guides. Amook Sharma, Alok Pankaj, Prachi, etc were the participants. The certificates were given to the participants by the chief guests. Scout master Amardev Singh, Ved Kumar and Guide Captain Divyang Dubey made commendable contribution in the program.
To celebrate International Girl Child Day, a day long awareness programme was organized at Anganwari Centre Banderna B Kishtwar. The programme was organised by District Administration under the supervision of District Programming Officer ICDS Kishtwar Pawan Parihar and under the aegis of Beti Bachao Beti Padhao (BBBP) scheme. CDPO Kishtwar Iffat Ara, Health Mobilizer Mohsin Nisar, Employment Officer, Waseem Hussain Khan besides AWWs, AWHs alongwith the local women and adolescents girls remained present on the occasion. Various girl Children and girl child achievers in various fields were also felicitated with Kits and cash incentives on the occasion.
District Administration Poonch celebrated the International Day of Girl Child. The programme was attended by DDC Poonch Rahul Yadav, SSP Ramesh Angral, Programme Officer ICDS Dr Mohammad Tanveer, CEO Education Ram Saroop, CDPO Poonch, Jahangir Khan besides frontline workers from ICDS and Health department and girls' children of different educational institutions were present. DDC provided appreciation certificates and an amount of Rs 10,000 to each of seven girls who have secured position in 12th class examination and also distributed baby kits and dry sheets to nursing mothers.
ICDS project Baramulla celebrated a day long function in connection with the International Girl Child Day. DC Baramulla Dr G N Itoo presided over the function as chief guest whereas officers of different departments showed their participation. DC distributes 9 tabs and one laptop among the meritorious girl students. He also distributes baby kits among some lactating mothers and terms it a move ahead to empower the women and make them self reliant.
Deputy Commissioner Ganderbal, Shafqat Iqbal flagged off the 'Beti Bachao, Beti Padhao' rally from the Mini Secretariat Complex Ganderbal. Aanganwari workers, CDPOs, DPO and other departmental officials participated in the rally which went through the town under the slogan of Beti Bachao, Beti Padhao. For the awareness, two Ladli Express Vans mounted with loud speakers were also flagged off which will go through the villages of district to disseminate the message on importance of girls. Speaking on the flag off ceremony, the DC highlighted the need and significance of educating the girl child besides highlighting adverse impact of decline in sex ratio. He also said that empowering women and girls and promoting gender equality is crucial to accelerating sustainable development. He also appealed for end of all forms of discrimination against girl child. Among others SSP Ganderbal, Khalil Poswal, ADC Ganderbal Farooq Ahmad Baba and Program Officer, ICDS were present during flags off ceremony.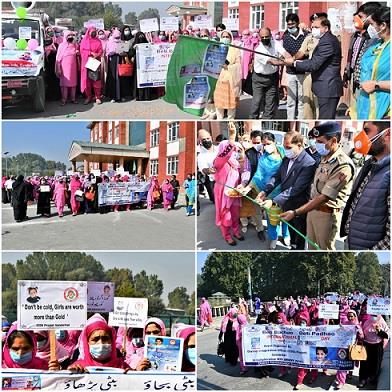 Weeklong event organized by Jan Sangharsh Sanstha to commemorate the day concluded at Jagriti Oldage Home/Bal Ashram Udhampur. A poet seminar was organized under the chairmanship of Advocate Sanjeet Bavouria, while Devinder Thakur, Kusam Sharma Antra, Anu Atri, Neelu Thappa, Anil Verma, Shriyanka Thakur, Neetu Sharma and ICDS Officer from Social welfare Department Udhampur were also present.